We've all seen the pictures with Land Rovers and Toyotas with rooftop tents travelling through Africa. It's the perfect image of adventure. When you have a rooftop tent people take you seriously, whether they should or shouldn't. But having a rooftop tent defintely shows you mean business when it comes to camping. You know why? Because a rooftop tent gives you the best bedroom view on the campsite, it provides you with a ventilated bedroom, comes with a kingsize memory foam matress and saves you valuable space inside the car. It's just so much better than a normal 'ground' tent. Although they have their advantages too of course.
Why we bought a rooftop tent in the first place
When we bought the Defender we already made the decision to buy a rooftop tent because of the comfort that a rooftop tent offers. As mentioned above it comes fitted with a memory foam matress, which makes sure you are well rested in the morning. When you sleep in a normal tent it's not like you can bring a kingsize matress with you inside the car, can you? And than there's the fact that it's easy to fold open. So when you arrive at the ultimate campspot your basecamp will be set up in minutes. Leaving more time to enjoy the birds, the beer or the bonfire. Sounds good, right?!
More adventure in the making
So a rooftent is easy and comfortable, but it also opens up your holiday for more adventure. You don't have to worry about uneven ground or a campsite. After a full day of adventure you just look for a horizontal place in the middle of nowhere, park the car and flip the tent open. When it's hot outside you can open up all four sides and let the wind blow through. Don't you worry about mosquitos either, a rooftop tent comes with mosquito mesh.
It's clear that we were all in for a rooftop tent. The only two questions were which type and then which brand. First you should start looking at which type you want, this can be a hardshell pop-up or a soft-shell fold-open type. The first can be very expensive and takes up a lot of space on the roof, but is easier to set up and causes less wind resistance when driving. The latter type is normally a bit cheaper, takes less space on the roof and has more inside space, but has more wind drag and it takes a few minutes longer to set up. We went for the soft-shell rooftop tent primarely because of the price. But you don't hear us complaining about the huge bed and the fact that it can open up over the back of the truck, which creates a dry working space to prepare dinner.
Choosing the right brand
Which brand to go for wasn't an easy decision, at least not until the moment we discovered the Tembo 4x4 rooftent. Everybody that's looking for a rooftop tent knows brands like EezyAwn, Hannibal, Maggiolina and Howling Moon. But they are all super expensive (quality is superb as fas as I know) and not something the regular traveller would easily consider. But as with every trend, imitations will flood the market. The same happened with the rooftop tents. During the last couple of years Chinese imitations have been flooding the market. Every outdoor specialist seems to have its own rooftop tent brand, which is crazy!
For our adventures we were looking for the best imitation tent we could find, just because the expensive ones were unaffordable to us. And let me tell you, the choice wasn't easy, every imitation brand has something extra to make them stand out, but almost all imitation tents lack the high quality canvas that would give us peace of mind during the windy nights. 
Why the Tembo 4x4 rooftop tent?
But doubt turned into excitement when we saw the Tembo 4x4 tents at the 4x4 Holiday Expo in Loon op Zand (NL). Tembo 4x4 has been on the market for a long time and therefor has lots of experience in the overlanding world. But only recently they added the rooftents to their product range. And for good reason, they have been improving the tent design for quite some time. Their tents fall in the same price range as the Chinese ones, but they come with the high quality fabric of the American and South-African brands. For us this was the match we were looking for! That's why we bought their tent and are using it as often as possible.
Tembo 4x4 is all about bringing high quality stuff to the market. They can probably keep their prices low because they won't have to give much aftersales support, trusting in the quality of their product. If there are any questions or remarks they are there for you nontheless, no worries.
The pro's of the Tembo rooftent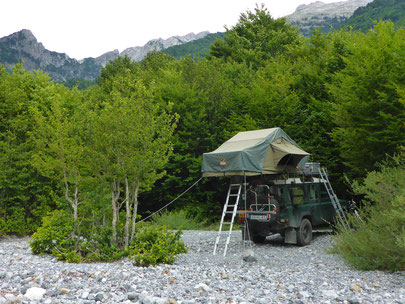 As mentioned before we love their tents because of the high quality 380 gram Rip-Stop Canvas. This type of fabric is resistant to tearing, behaves well in high winds and keeps the sun out in the morning.
We've so far spend more than three hundred nights in the Tembo rooftop tent. We're really happy that we went for this one for the above reasons. When you're on top of a mountain in a storm you don't want to worry about the tent being ripped apart. Of course we still recommend to be careful, winds can be dangerous.
The matress that comes with the tent is really comfortable. Unfortunately we had a condensation problem with it, like every bed would have without proper ventilation. So we bought a condensation matress for underneath, which solved the condensation problem and gave us even more comfort. We've heard something about thin blankets that solve the problem as well, will keep our ears peeled for that. The newer series Tembo 4x4 rooftop tents have a different matress and waterproof cover (sides and bottom), which solves the condensation problem!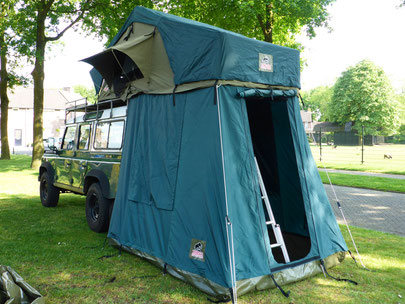 The Tembo rooftent is not only very durable, it's good looking as well. It comes with a nice green cover made of hard-wearing PVC. The green color doesn't only look good, it's a lot better against the heat then a grey or black color. You may not think about it, but when you've been driving in the sun in summer that dark colored cover will heat up to a point you can't touch it. So this color is defintely a good choice.
Rooftent description
The tent itself is made of a poly-cotton mix with a brownish color, which gives it a natural look and doesn't heat up quickly in the morning. Covering the top of the tent is the green 420D polyester flysheet, which acts as an extra rain barrier and creates a double roof that keeps the inside of the tent cooler.
The tent has two entrances; one on the side of the ladder and one on the opposite side, both of which are provided with roll-up mosquito mesh. The two sides have windows that are also covered with mosquito mesh and are covered by small awnings which keep the rain out.
Overal conclusion is that we are very sattisfied with the tent! It does the job really well; it gives us a nice place to sleep at the end of a very adventurous day! And it gives us total freedom, which is what we like.
Improvements on the newer series
On the road we discovered some points on the first batch that had to be improved. Rainwater was able to collect on top of the flysheet above the stairs, the floor was prone to dents and the fabric was too tight around the frame.
Luckily for us equipment junkies, Tembo 4x4 is all ears when it comes to product improvement. So they came up with solutions and implemented improvements! That means that if you buy a tent from now on you will have a special matress cover to prevent condensation and moisture ingress from the sides, improved fabric lay-out, an extra horizontal pole to prevent water collecting on top of the flysheet above the stairs and it comes with a redesigned floor with special sturdy pattern. They also replaced some rivets with nuts and bolts for more durability.
So hereby I can conclude that if you buy a new Tembo 4x4 rooftop tent you will not be disappointed! It has everything you need to get out there and start camping without any worries. For us there is no looking back at other tents. With Tembo 4x4 you will get a high quality tent that's worth the money. It's comparable with the high-end expensive ones, just for quite a bit less. Which means more money in your pocket to spend on the road!
Pros
High quality fabric
Sliding stairs instead of telescopic ones, the latter tends to clog up with sand and the souplesse will surely disappear
Great color combination (looks & practicality)
Extra horizontal pole above the ladder to prevent a sag
Very good ventilation
Mosquito mesh
Easy to set up
Improved matress & matress cover
Improved fabric
Improved flooring
More durable details
Cons
No window in the cover above the stairs, but this feature is unique to a very select few tents.
Aluminium base/floor in stead of marine-ply that breathes. Be aware of condensation in some climates. Although the new matress cover compensates for this!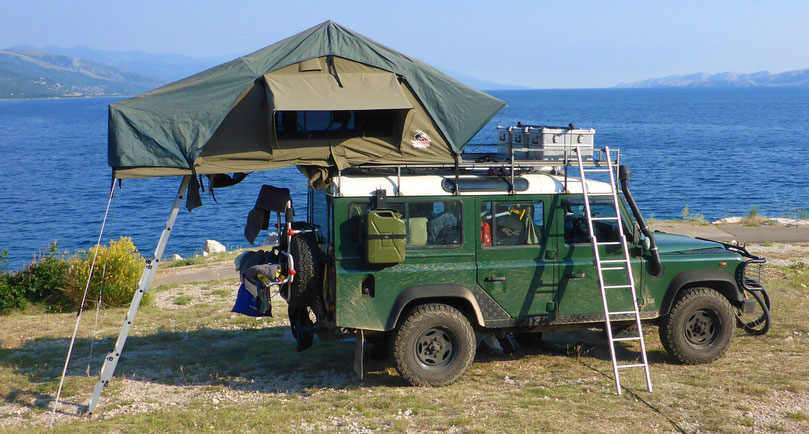 Curious about my experience and my opinion about the Tembo 4x4 rooftent? Do you speak Dutch? Then check out this adventure experience blog (Dutch) about the Tembo 4x4 rooftop tent. Don't forget to check out our field-test as well!
Disclaimer: we're not sponsored by Tembo 4x4. But we do like to work with (and for) companies that stand by their products and offer great support when necessary. Great relationships keep us on the road with piece of mind. We hope you did like this equipment review.