You can hardly argue it when somebody calls Cappadocia the landscape of dreams. The fairytale chimney rock formations and interesting villages leave many wonder-struck. The region, situated in Central Anatolia in Turkey, is famous for its beautiful geology, underground cities and cozy villages. And don't forget the hot air balloons that go up every morning. Yes, Cappadocia, the landscape of dreams, is unique!
Due to its richness in natural wonders and cultural history it's a touristic hotspot and one of the leading examples in nature-tourism. Many of the locals work in the tourism industry; as a manger in a hotel, a ceramics craftsman in a souvenirshop or as a pilot for the hot air balloons. The latter being a very interesting one, especially in this region. The hot air balloons are what made Cappadocia world famous. Millions of people from around the world have seen the beautiful hot air balloons fly through the valleys during sunrise, on tv or in real life. We did the same, we joined one of the balloons in the morning.
Text continues below photo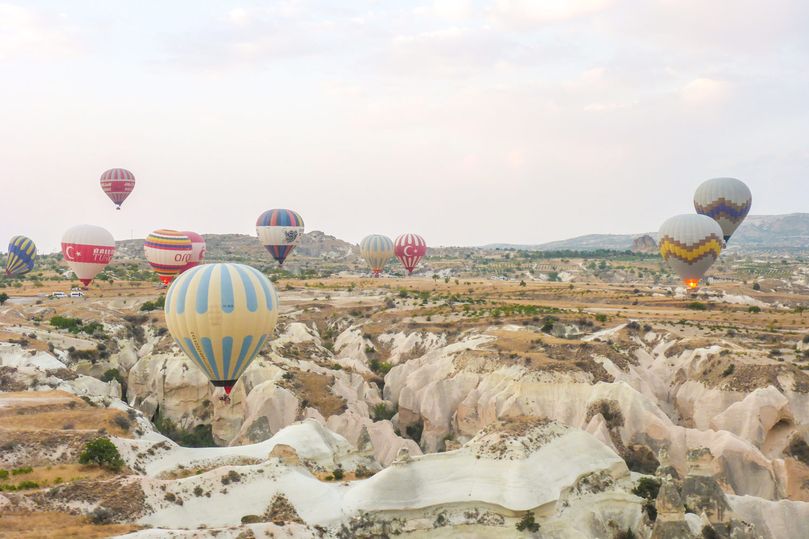 Venture into the sky with a hot air balloon
You only have to Google Cappadocia for a sec and you'll most likely stumble upon dozens pictures of hot air balloons. Back home, when we were still looking for places to visit, we stumbled upon this region just because of the balloons. It's big business in Cappadocia, and for good reason! It's unlike anything else, it's even completely different from any other hot air balloon flight you can participate in. The landscape is unique and diverse, and the pilots take the entire experience to the next level. You'll fly through valleys, past cave houses and over stunning landscapes. Something they don't do anywhere else, or at least here in The Netherlands they won't (and can't).
Get the package
Once you are in the region you'll find a bunch of businesses offering a flight with a variety of packages. It can be hard to choose the right company, but actually you shouldn't really worry. Most companies work together and swap out tourists if necessary. You can probably assume everything is well with most companies. Most prices are the same as well, the only real difference is the package that's being offered. You want a five-star breakfast and massage afterwards? No problem. You just want only the balloon flight itself? No problem either. The choice is yours.
Amazing maneuvering made the experience
So, we mentioned the pilots before right? They are amazing! It's almost unbelievable how talented they are, maneuvering the balloons down the valleys and around towering rock pillars, just meters in between. If you think those balloons can only follow the wind and just drift away you're wrong. The pilot is in control and decides if you are going up or down, or turn clockwise or counterclockwise. We took a flight with Kaya Balloons, which is also the biggest hot air balloon flight school in Turkey and maintains a lot of balloons from the other companies in the area. They are also internationally recognized as one of the best hot air balloon schools in the business.
Flying the balloons, worth every Lira
Normal prices vary between € 100 and € 160 per person, for a flight of one hour, including breakfast. Although current political situations have taken its toll on Turkeys tourism industry, which resulted in lower prices during our visit. Good for us, but no so much for them. Luckily for the Turkish people this situation is reversing and tourists are coming back in bigger numbers again. This is something everyone should cherish, the Turkish people are wonderful, warm and welcoming. They deserve a bright future. Turkey is a country that I, Tobias, would recommend as a must-visit for fellow roadtrippers. It's diverse, beautiful and easy to travel through. So yes, the times that a balloon flight would cost you just € 40-50,- are over, but it's still a very cheap place to fly a balloon. And it's worth every Lira! Just do it, check out our Cappadocia balloon flight here!
Text continues below photo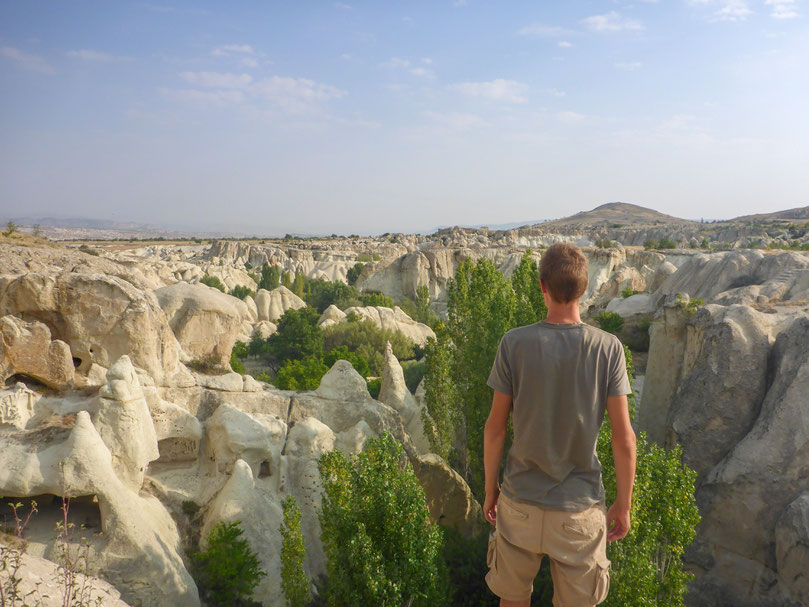 Visit an underground city in Cappadocia
The entire region of Cappadocia is famous for its rock formations and cave systems. So it should be no surprise that a visit of an underground city is on this blog. Currently there are 36 known underground cities in the area. Most of which are thousands of years old and consist of hundreds, sometimes thousands of chambers. Constructed to provide shelter, they protected the inhabitants against bad weather, but more importantly they protected the people against unfriendly armies and looting invaders. Two of the most famous underground cities in Cappadocia are Derinkuyu and Kaymakli. The first being the deepest, the latter being the widest. Although Derinkuyu is supposed to be more adventures, we opted to visit Kaymakli since people told us it would be more beautiful to see.
Visiting Kaymakli underground city
Of all the underground cities Kaymakli is argued to be the most interesting and enjoyable city to walk through. Consisting of eight floors, of which four are open to the public. It is estimated that this city is one of the biggest around and used to house thousands of people back in the day. The original inhabitants of this underground city constructed their houses around nearly one hundred tunnels, like we place our houses near streets. But besides the living quarters you'll also find stables, wineries, kitchens, communal areas, churches and cellars. They even dug out ventilation shafts, up to 80 meters deep, to keep the fresh air flowing through. The entire city is build around these shafts to prevent mold and stale air. You'll even be able to feel a breeze all the way down to the deepest chambers, like modern day airconditioning. So yes, it's like walking through a two thousand year old skyscraper, but than below ground. What an undertaking it must have been, digging out an entire city out of limestone.
Modern day uses of the underground cities
These days the main complex of the underground city is inaccessible or only open for (paying) tourists. But there are also many smaller tunnels and chambers surrounding it. Many of these are currently in use by locals as storage areas, stables, cellars and sheds. They simply access the system through their courtyards and gardens. So although the heydays of the underground city are over, it's still being put to good use.
Hereby I want to conclude this blog with a big recommendation for Turkey and the Cappadocia region. Make sure to visit at least one underground city and to fly the hot air balloons. And then, if you have time to spare, you can even rent an ATV, ride a horse through Rose Valley or visit the nearby salt plains. Have a nice holiday!