Hiking in the Gran Paradiso National Park is one of those bucketlist items that should be done at least once in a lifetime. The National Park is one of few really wild and remote parks in Europe. It's free of any ski resort and you won't find any associated après-ski villages either. It's truly wild and pristine. This park is real, beautiful and diverse. It's an ideal place for people who really seek an authentic and adventurous holiday. It's the perfect refuge if you're an outdoor lover that isn't easily scared by a challenge.
Text continues below photo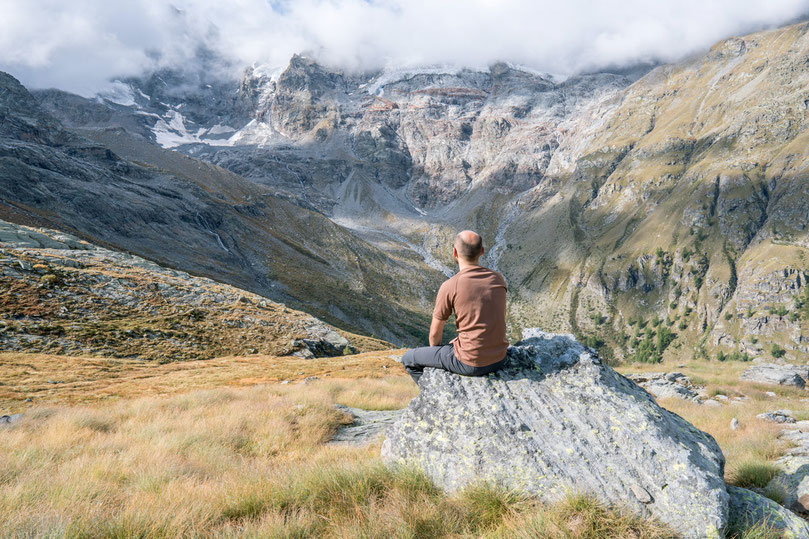 Why visit the Gran Paradiso National Park?
So why visit exactly this park you ask? Of course everybody's preferences are different. But the Gran Paradiso National Park has a lot to offer! What started out as a hunting area of the king, now is a pristine refuge for wildlife such as the ibex and chamois. The green pastures down below are succeeded by rock slides and even glaciers higher up in the mountains. This diverse combination makes it very interesting to explore and offers something for everybody.
History of the park
The park, which was formed in 1856, used to be a hunting reserve for the king of Italy. Fortunately for us outdoor lovers, the grandson of the former king donated the hunting reserve in 1922 to become Italy's first national park: Parco Nazionale del Gran Paradiso.
The presence of (big) wildlife is one of the reasons I, Tobias, love the outdoors a lot. And whilst Ibex were almost extinct in every other part of the Alps, they managed to survive within the park due to the status as a hunting reserve for the king, and later as a official National Park. It is estimated that 4000 Ibex were present when the park was formed in 1922. Unfortunately the protection wasn't up par until 1945, which resulted in a drop of the Ibex population to 419 individuals between 1922 and 1945. Luckily these days the population is back up with around 4000 Ibexes roaming the meadows, higher grasslands and rock slopes. So that's a big pro for the park, at least if you're into wildlife like me.
But not only the history and the Ibex population are worth your time. The park also has a lot of interesting landscapes to offer. From white water rivers all the way down in the valley, to the glaciers decorating the mountains, and the grasslands in between. There is something for everybody, it doesn't matter if you're looking for a one day hike with the kids, or a multi-day trek across a variety of landscapes including grasslands, rock slides and glaciers. Everything is possible, from an easy stroll alongside the river to professional mountaineering at an elevation of 4000 meters.
Text continues below photo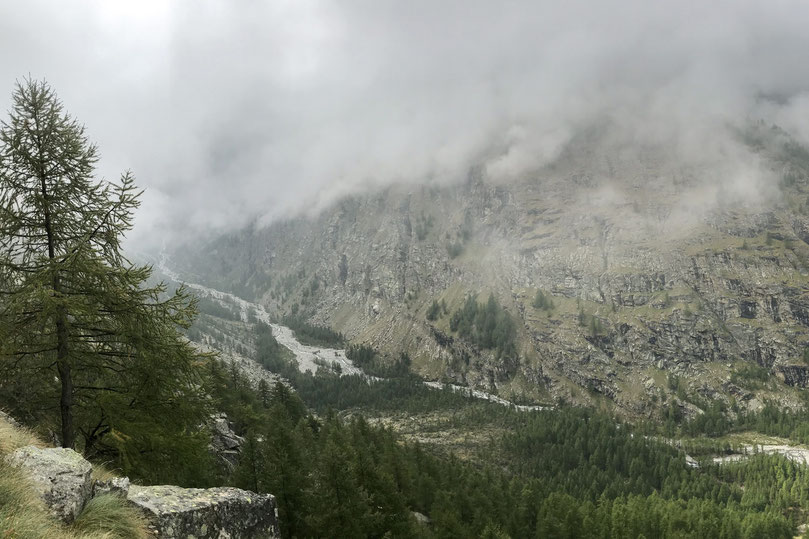 How to get to the Gran Paradiso National Park
The National Park is accessible via multiple sides. You can enter the park from the north, through Valsavarenche or Cogne, or through the south-east via Pont-Canavese. The direction you came from will most likely dictate which valley you'll be exploring. Since there are no real road connections through the park, you have to consider your preferences before entering the park itself.
We went into the park through Cogne, or Valnontey to be more precise. This route is one of the more famous entrees into the National Park and gives you access to many hiking options. Cogne is easily accesible via Aosta and the beautiful SR47 road going south-east. It's a well maintained road that passes a few small villages before entering Cogne and ending in Lillaz.
If you choose to start your trip in Cogne we can advise you to first visit the tourist information Centre (Uffico del Turismo). That way you'll be able to start of well informed and with up-to-date maps of the area. If you decide to venture deep into the park by foot, the village of Valnontey is a good place to start. Easily accessible from Cogne, it is situated further into the valley south of Cogne. By starting here you'll skip a few kilometers and start your hike right in the beautiful outdoors. Ready to head deep into the park itself. We also advise you to have some pizza in Cogne when you return from your adventure, what a bonus!
More info about directions and tourist information centers is available on the official website of the park.
Possible hiking options
There are many hiking options available in the National Park. If you want to take it easy, you can stay down in the valley and follow the river upstream and return on the opposite side of the river. This option is ideal if you're just here for a days hike, have kids or aren't looking for a huge physical challenge.
Get ready for a challenge and venture higher up into the mountains
The second option is to follow the river, but eventually venture up into the mountains. This is very rewarding, but can be challenging at some points. Especially if you're planning to spend a few days in the mountains you will probably suffer, hauling all the gear and food up the mountain. Some parts are very steep and slippery, other parts are steep but more like stairs. Don't forget to bring your trekking poles, they'll become your best friend. Nonetheless, this will be one of the most interesting options to take! Doable for the amateur mountaineer, or untrained (living in the flat Netherlands like us). We do advise you to take a close look at the maps provided by the tourist information center. Many paths are classified EE, which is in the higher spectrum of difficult trekking routes (next step you'll need climbing equipment).
The option above is great and very rewarding. The landscapes will be diverse and the vistas will be unforgettable. Another great pro for this option is the possibility to take a detour and sleep in a local bivacco (unmanned hut). That way you can split up your multi-day hike into doable day treks. Keep in mind that it's possible the bivacco you're aiming for is full in the peak summer season. Start off early and calculate in some time in which you can divert to another bivacco. Nothing worse than sleeping out in the open, exposed to the elements at an altitude of 3000 meters... more on that later.
A mountaineering challenge awaits you
If you are trained, completely nuts or looking for the biggest adventure in the area you can go on a full scale alpinism trek and conquer the rock faces and glaciers that are found near the highest peaks of the National Park. Probably the most rewarding, but only to be attempted by trained and experienced climbers and professional hikers. We have seen pictures of these undertakings, and boy they are beautiful and extreme!
Text continues below photo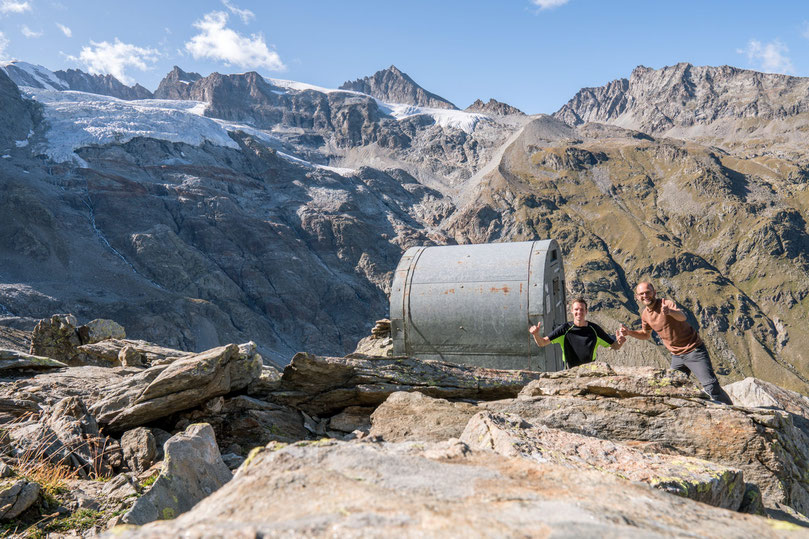 Hiking in the park itself - starting point Valnontey
We decided to stay away from the glaciers, especially since we arrived in early fall. And after talking to the lady at the tourist information center we made the decision to aim for Bivacco Money on our first day. A bad, bad mistake. Although it should be doable in the summer season, it definitely was not when we were there! 
Attempting to reach bivacco Money
The hike was supposed to take 3,5 to 4 hours, starting in Valnontey. But due to the lack of training, the huge amount of gear and bad weather it took us about 8 hours to almost reach the bivacco. Unfortunately for us it was rainy, misty and very cold. We were ill informed and had to find out the hard way that you need climbing experience to reach this bivacco. It was way too slippery and dangerous to try and climb the rock face to the bivacco without climbing gear. It is safe to say this could better be done with a climbing harness, we had none. We were sure, if we attempted to climb this wall, one of us would surely slip and plummet dozens of meters down towards his death. We decided to descent again, having only one hour of daylight left. After a few more hours (of which two were in complete darkness and misty conditions), we were able to descent about 500 meters before being totally exhausted. The hike took more than 12 hours and the stress and fear were taking its toll. We tried to create a shelter with emergency blankets and spend a night out in the open. It didn't really work out, but we survived.
The next day we woke up, alive, but cold and smelly. The stress, altitude and weather had taken its toll on our bodies. Low on water we decided to source it from a river nearby and make ourselves a few cups of tea to feel alive again. Finally, after a few hours, we felt well enough to carry on the hike and we set foot to reach Bivacco Martinotti. Luckily for us it was only a few hours away.
At around 4 o'clock in the afternoon we reached the bivacco and found it was empty of people and completely kitted out with nice mattresses and blankets. Wow! What a difference this was, compared to the cold and exposed evening and night before. It felt like a five star hotel and we couldn't be happier! See the photo above. We spend the afternoon enjoying the view and prepared some pasta and deserts in the evening. Thank you dried food (Adventure Food) for being our friend on these trips. The next day we were well rested, but low on water again. So we decided to head back down towards the main river and head back to Valnontey, which we reached at about 15:00.
It was an interesting and very challenging experience. We had moments of joy, relief, excitement and utter fear. But in the end we fully enjoyed the whole experience. Hiking in the Gran Paradiso National Park is very well worth your time. It will be an amazing adventure you'll most likely never forget. Be prepared and enjoy every second of it!
Wildcamping tip! Hiking North of the National Park.
If you're like us you're eager to camp in the wild. Unfortunately Italian law forbids you to spend the night in a tent inside National Parks. So wildcamping in the park itself isn't advisable or legal, although it will be possible in the off-season. But we do have good news for you! You are allowed to wildcamp above 2500 meters in altitude outside of the national parks. And that's were this wildcamping tip comes in handy.
The nice lady of the tourist information office in Cogne advised us to go wildcamping near the lakes north-east of the park. These lakes are situated outside the park and high enough that wildcamping is allowed. You can start your hike in Gimillan, or Champlong like we did. Both starting points are great, but there's a difference in scenery between them.
Starting point Champlong
Whilst the hike from Champlong starts of lush and green, it becomes quite barren near the Miniera di Colonna ruins. Be prepared for this and take enough water with you. If you're lucky you can fill it up at the ruins, but after that your nearest water source will probably be hours away. You'll have to pass Mount Creya (3015 meters high) and descent in the direction of Grauson Inferiore to find any drinkable water. Don't underestimate the distance like we did and end up hiking in the dark. Be prepared. The area is very beautiful and extreme. You'll have great views over the valleys and the Gran Paradiso National Park and will be thrilled by the adventure and challenge, I guarantee you that! If you want to reach the most beautiful lakes in the area you can split off from the main (and easier) routes at Grauson Inferiore. From there head towards Grauson Superiore and the lakes up north (Laghi di Lussert, Lago superiore di Laures and lago Gelato). Please spend the night there, as it's supposed to be very rewarding.
Starting point Gimillan
The start in Gimillan is green and lush and stays that way for many kilometers. This route is very beautiful and will take you all the way to a small remote village (Grauson Inferiore) high up in the mountains. After that, depending on your route, you'll now enter the barren area the other route encountered way earlier. From the village you can choose to hike further up towards the lakes, or visit the summit of Mount Creya and then descent towards the Miniera di Collona ruins and finally Champlong or Gimillan again.
We didn't manage to reach the lakes due to a late start and expected bad weather on day two. We started in Champlong, hiked towards Mount Creya and descended to lake Money to spend the night there. This is where we wildcamped (see photo below) and spend the next morning. From there we visited Grauson Inferiore and descended towards Gimillan to return to the car that was parked in Lillaz. Visiting the lakes is on our future bucket list! We met two older woman from Geneva who visit these lakes every year, they were mesmerized and hooked by them. We will visit the lakes one day... that's for sure.
Happy travels and we are here for you if you have any questions.