The awning, a must-have for every overlander! A great accessory that will multiply your living space in a matter of seconds. Before I owned the Defender 110 I drove a Land Rover Series 3 Ambulance with an awning that slid into a special rails along the side of the car. Great piece of kit that was very lightweight with multifunctional legs, but very clumsy to set up. So when I bought the Defender things needed to be different. That's where the ARB Touring comes in!
The ARB Touring is an all-in-one solution which is mounted to the side of the roofrack. There's even a smaller option for the rear side of the car if you like that. The all-in-one solution is neatly stored in a heavy duty zipped bag that is attached to the aluminium support frame at the back. Everything is in there, so there's no need to stow away any parts inside the vehicle, thus saving space and keeping everything clean.
I chose the ARB Touring 2500x2500 awning, which is amazing! It's a great fit alongside the Defender 110 and extends out pretty far, giving plenty of living space. Also the possibility to buy accessories like a sidewall or a complete room make this awning a great choice for overlanders.
---
The specs
ARB Touring 2500 (250 x 250 cm)
Poly-cotton ripstop canvas
300 gr/m2 fabric, heavy duty quality
UVP50+ rated sun protection 
Coated with water repellent and fire extinguishing impregnation
Durable nylon reinforced PVC cover
Telescopic poles included in the design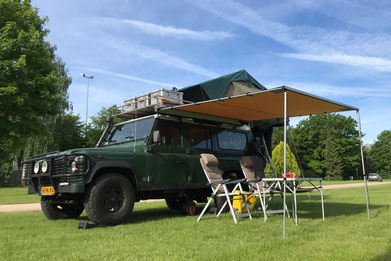 ---
My experience with the ARB awning
I've owned the awning since the summer of 2016, so just over three years now. I have to say I am very happy with it. It's provided shade when the sun was out, and gave cover when there was heavy downpour.
Off to a bumpy start
Whilst I'm happy now, I have to admit we were off to a bumpy start with the awning. The first model I bought had some problems with the canvas coating. Instead of one continues coated surface it was coated in lanes. Some coating lanes were okay, others had no coating at all. This resulted in a tricky situation when it rained for longer periods of time. I contacted my supplier which would get me a new one, unfortunately this took a while. When I contacted ARB they weren't familiar with the problem, but promised me to get me a new canvas as soon as possible, free of charge. Great service and reaction speeds on your part ARB! In the end I got a new awning through my local supplier. The new one works very well. Bad luck on the first model. The new model also has some overall improvements, so it's definitely a next-gen model.
Extending our living room in no-time!
The replacement model has proven it's worth time after time. It's one of the most used items on the Defender and has really changed the atmosphere around the vehicle. Setting it up takes only 30 seconds, so it would be a shame not to use it.
The ARB Touring Awning not only provides us with shelter, it also creates a homey feeling. It's a great place to hang out and just chill. Setting up our chairs and table underneath the awning creates a great vibe. You're right at home. I honestly think people underestimate the power it has on the overall camp-feeling. If not for shelter it's almost worth buying it just for this alone.
When travelling through hot countries like Croatia, Albania, Greece and Turkey an awning is a great piece of kit to take with you. When the sun out and the temperature reaches a staggering 40 °C it's nice to take some cover from the direct sunlight. The awning provides us with shade and makes sure a breeze can still pass through, cooling us down.
Then when the weather turns for the worse it protects us from rain. It has proven to be capable of providing shelter when the rain sustains for a longer period of time. We've had two days of heavy continuous rain, even flooding the entire campsite, whilst we were still relatively dry. If you expect to be in heavy rain a lot I would recommend buying at least one side wall. It's a nice feature to have when the rain comes in at an angle. The effective dry space you can use becomes quite a lot bigger. It also keeps the breeze out.
Review continues below photo
Fighting the elements
Our ARB awning has been fighting the harshest of elements quite a few times! During three years of use we've only stowed it away twice due to the elements. Both times the wind picked up well over 100 km/h. We didn't want to risk losing it. During one of these storms we saw dozens of awnings collapse all around the campsite, so we decided to stow it away safely. If you keep it up in heavy winds you have to make sure to tighten up the twist-locks really well. We've had the twist-locks come undone a few times when the wind was beating against the canvas. It's just a matter of doing them up tight enough, you don't want to get out of bed during the night because your awning collapsed. Other thing to keep an eye on are the velcro straps. When the wind is beating against the canvas and it's flapping they sometimes come undone as well.
Another time, in the summer of 2018, we were experiencing heavy downpour in Southern France. Heavy rain was expected, but they didn't see this shit storm coming. The entire Ardeche region was experiencing mighty rainfall and rivers doubled (or tripled) in volume and flooded the region. Our campsite was affected as well. Luckily for us our rooftent kept us dry and warm (even let us watch a movie whilst riding out the storm). The awning held on really well. So we were able to have a dry breakfast whilst other people were looking for a place to take shelter (they stayed in the reception area, no worries).
Overall it has protected us against fierce sunlight, normal rain and a few storms really well. We couldn't have done without it, that's for sure!
---
Pros
Relatively low weight
Quick set up (30 seconds)
Great natural color
Coated canvas (water repellent and fire extinguishing)
Rip-stop material to prevent tearing
Durable cover
Possible to replace the twist-locks in field (cheap and small to carry)
Includes guy-ropes and pegs
Cons
Need to really tighten the poles, else they will slide in when under stress (windy conditions). Just keep it in mind and tighten them up well.
Fiddly to set up and store away on your own. It's possible, but with two people it's a piece of cake.
The velcro that attaches the canvas to the poles isn't the best on the market. Although we haven't had much problems with it.
---
Would I buy it again?
Yes, I would definitely buy it again. It has proven its worth numerous times, in rain and sun. Besides that it really creates the cozy camping atmosphere I like.
We mostly use it on (legal) campsites. When out camping in the wild you often want to be a bit more discreet. When staying on a campiste we almost always set up the awning. It's easy to do and really makes us feel at home. When out in the wild we rarely use it. We want to be discreet and/or don't have the space around the vehicle. If you're an avid 'wild camper' like us you have to ask yourself the question if you want to stand out more. This question often comes to mind when wildcamping isn't allowed or just barely condoned. But hey, most of us 'wild campers' are visiting campsites now and then, if only to do the laundry! It's worth your money even then!
Due to the bad start I had I would recommend testing it well before you set off. Like with all gear you have. Set it up and hose it down well, for at least 20 minutes. Or care about the environment and just wait for a rainy day. Check if any water leaks through or if you can see any coating problems in the fabric. If not, great! Now, let it dry and set off! Enjoy!
---
The awning in all its glory
---
Check out our set-up video from 2017
Disclaimer: we're not sponsored by ARB . But we do like to work with (and for) companies that stand by their products and offer great support when necessary. Great relationships keep us on the road with piece of mind. We hope you did like this equipment review.