We've already published a few articles about the Tembo 4x4 rooftent before. We've commented about the tent itself and wrote a review about it. This time we want to talk about the experiences we've had with it. Particularly the daunting experiences that really make or break a product and your adventure with it. Can it handle the weather? Let's find out!
The cold has never stopped us
No matter the weather, you can always find us out camping! For us it doesn't matter if it's 35+ °C, or -15 °C, we will be fine. We won't argue with you that having a camper-van with the bed already in place is the most comfortable option. We will admit it can be quite the hassle to set up or fold in the tent when it's raining or snowing, but it is very doable. It's just that a rooftop tent on a 4x4 is much more adventurous and will, in many cases, provide you with a more unique experience. It's the type of travel we linger for! So we are all in for the rooftent.
We've conquered the cold many times. As long as you take your warm sleeping bag with you, you'll be perfectly fine during the night. Until you have to pee that is... good luck getting out the tent and find your willy when it's below zero. We're happy to say that the Tembo 4x4 rooftent has held up very well during numerous snow-storms. It can handle the weight of the extra snow well and water doesn't leak through. The only problem that arises during rare situations is when ice is forming on the flysheet, which makes folding it in a bit more fiddly. Better to remove the ice before folding in the tent. But normal snowy conditions are no problem at all. We love to wake up in the morning, surrounded by a white blanket as far as the eye can see. What a feeling! And all of that from the comfort of your own memory foam mattress. Five stars anyone?
Text continues below photo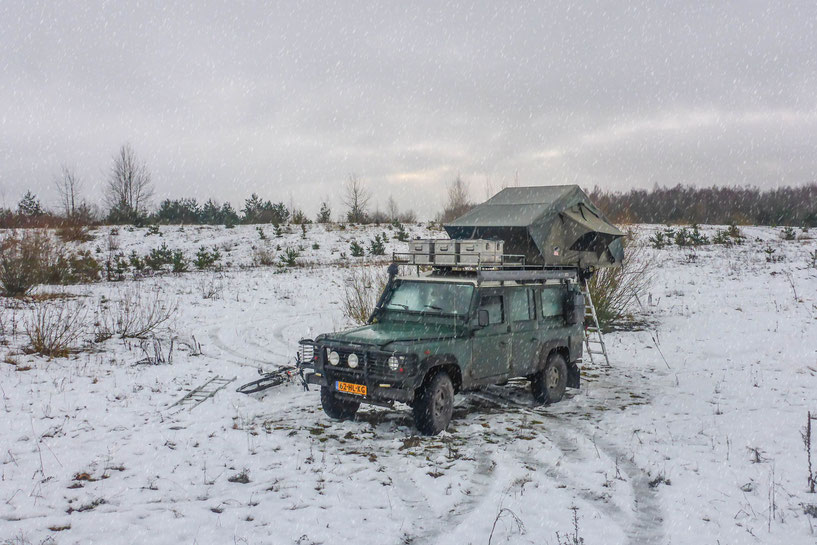 Complete flooding and we're fine
Then there have been quite a few times when rain struck our camp. Luckily for us we are always high and dry. In 2018 we were camping in Southern France when disaster struck. The huge amounts of rain flooded many villages, campsites were evacuated and people even got missing.
The storms and flooding that hit Southern France in 2018 even made it to the international news media like the BBC and DailyMail.
So there we were... well asleep till the morning, until we woke up with a tremendous noise. A storm was passing over and it was raining incredibly hard. There haven't been many times in our lives that so much water came pouring down. The hours that followed were intense with no end in sight. The waterlevel of the river was rising fast and the stream of water coming from the adjacent hills flooded the campsite.
Due to massive amounts of water many tents flooded. People were taking shelter in the reception area and the police and fire department were on standby. And then there was us, high and dry. We were still warm and comfy high up in our Tembo rooftop tent. Of course we noticed the heavy rain and saw the layer of water running down the campsite. But up in our tent everything was fine. We decided to take out the laptop and watch a movie until the rain passed. No worries and problems there! After 8 hours and 65 mm of rain it cleared out and we were able to explore the area around the campsite.
The tent handled the huge amount of water well. It did not really leak through. The flysheet is very much waterproof and got rid of any water that landed on it with ease. But after hours of rain the canvas sidewalls of the tent were getting damp. This single-layered canvas is impregnated with a water-repellent, but after hours of rain it will absorb some water. It surely won't leak through, but the fabric will get damp. Of course this can be expected after so much rain. It's a very good compromise between waterproofing and breathability if you ask us. New Tembo rooftop tents even come with a mattress that has a water-repellent cover on the bottom and sides, thus preventing moisture leaking through by contact. Just make sure your sleeping bag doesn't touch the wet fabric and you'll be fine.
Text continues below photo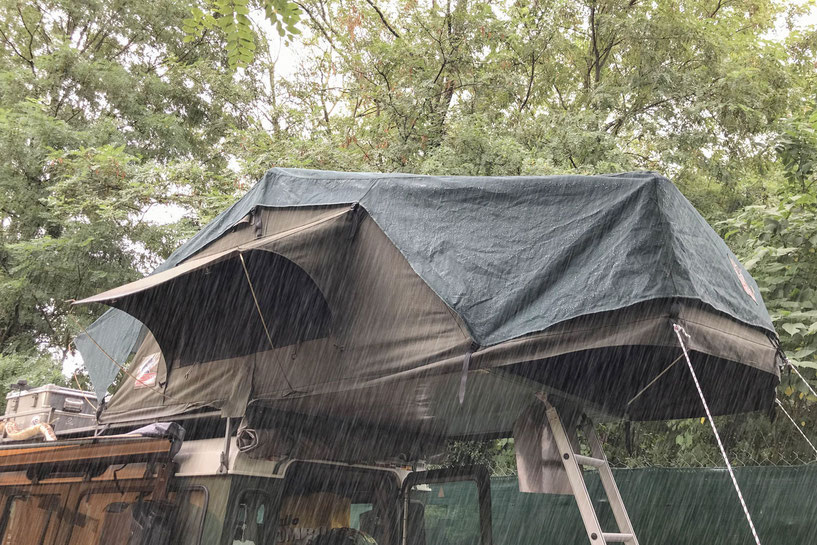 It's good to know the tent can handle our way of travel and the elements we encounter on the road. Having a rooftent is great and provides us with an amazing adventure. And although the tent can handle it, we would rather dream away with the endless possibilities of adventure (link to blog in Dutch). Camping is always better when the sun is out! Luckily for us most times we head out are pretty sunny!
In extreme conditions we would advise you to buy a condensation mattress. This is placed under the memory foam mattress and prevents moisture from building up. Great in very cold conditions to get rid of condensation, perfect in hot climates to get rid of perspiration.
Would we buy this tent again? Yes we would! Would we still buy it when we compare it to other brands? Yes. Why? Because it's made of great quality materials, has a supportive company behind it, and has a superb price to quality ratio.
Safe travels and find your new adventure!
Disclaimer: we're not sponsored by Tembo 4x4. But we do like to work with (and for) companies that stand by their products and offer great support when necessary. Great relationships keep us on the road with piece of mind. We hope you did like this equipment review.