The Coleman Stove 424 is the ultimate campstove for overlanders. It burns on a multitude of fuels, including readily available unleaded petrol. This makes it ideal for long-term global adventures. But practicality isn't the only reason why people buy it, it's also a burner that has been used for decades, is well established and is a true icon throughout the world.
Is the Coleman stove worth your money? Let's find out!
Review continues below photo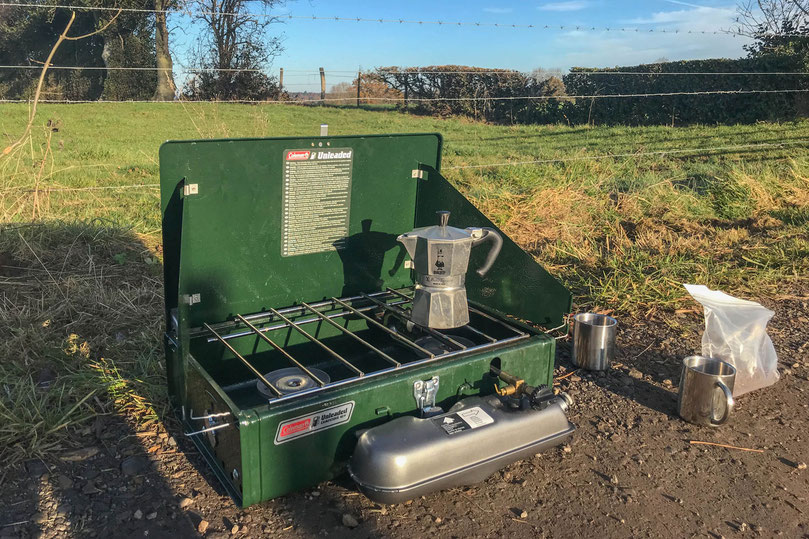 What is the Coleman 424 unleaded stove?
What started out as a gasoline pressure lamp company became an overall camping equipment manufacturer. Let me introduce you to one of their biggest success stories; the Coleman Stove. The first one came out just after WWII at a time Americans started exploring the countryside more often. Camping was hot! The stove soon conquered the outdoor market and people were lining up to get their hands on one. The two-burner model, which stores away in a suitcase fashion, became a must-have and soon turned into an icon around the world.
It's durable, compact and easy to carry around camp. It's ready in under a minute and has everything you need inside the box. The entire unit has 7 important elements: metal housing, grate, two burners, fuel tank, generator, manual pressure pump and choke. The only thing you have to do to get started is take the fuel-tank burner-assembly out and insert it into the front of the housing. A toddler can do it, although we would advice against that.
Due to its robust design it's capable of burning on multiple fuels, including widely available petrol. Which is one of the main reasons it's great for overlanders and other adventures travelers.
How it works
Operation is relatively simple. Although there are a few more steps involved in comparison to using a gas-burner.
Connect the fuel-unit to the front of the housing
Check if all valves are closed (main valve and side-valve for the second burner)
Twist the pump counter-clockwise, hold your thumb on the air-hole, pump the unit till a reasonable amount of pressure is felt, push the pump down and lock it in place by turning it clockwise.
Turn the choke lever upwards
Slowly open the main valve whilst holding a flame near the first burner (right one)
Let it burn for a minute until the flame turns blue. The flame heats up the generator, turning the liquid fuel into vapor, creating a better and more efficiënt flame.
Turn down the choke lever after a few minutes. You're ready to cook!
If necessary, ignite the second burner (left one) by opening the valve on the side and holding a flame near the burner. You may need to adjust the main valve accordingly.
Review continues below photo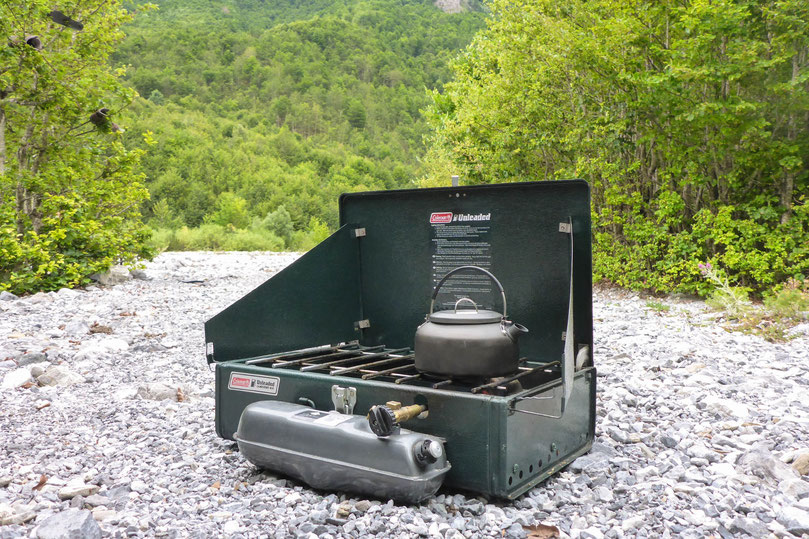 Coleman Stove unleaded review
Time for the review itself. What do we think? We've used this type of stove for almost four years now. Currently we're using our second one. The first one was a refurbished stove that came from a fellow traveler. So we're not entirely sure how its life had been before we got it. But after two years of use, which accounts for about 200 times, the valve in the generator started leaking. In total we used it more than 350 times before we got a new replacement. Can't really blame it on the model.
The newly replaced model was exactly what we wanted. The same type, but all new and shiny components. It works well to say the least. It ignites well, turns into a blue flame with ease and boils our water in no-time.
We love the fact that it runs on unleaded petrol. We always have a five liter jerrycan with us, which lasts for many months! And although Coleman advises to run the stove on their Coleman fuel, it's not essential. It works well with a variety of liquid fuels. We've only experienced problems twice, probably due to bad fuel which clogged up the generator. When that happens we pour in new fresh fuel and burn it fully open for about 20 minutes. This gives the generator time to warm up and burn any contaminants that may be present. Worked well both times!
Did you know petrol burns a lot hotter than gas? That means your water will boil faster! You'll also have your coffee quicker in the morning!
Does it work out in the elements?
Yes it definitely does, the elements are no problem. The suitcase design folds out with ease and creates a wind barrier right on the spot. It truly is a one-in-all solution. The top-cover and sides are a game changer as well. They stop the wind from messing with your cooking skills.
Also the altitude is no problem. Higher altitudes can cause problems due to a lack of oxygen and the often cooler temperatures. With petrol as your fuel you won't really have much trouble. The ignition of the petrol itself isn't really affected by the cold and height. It will still burn smoothly higher up in the Alps.
Pros
Can be used with multiple types of fuel.
Fuel readily accessible around the world.
Works on a wide range of altitudes.
Burns very hot, so your water will boil in no-time.
Two burners (opens up many more recipe options).
Accessories are available: Coleman Camp oven, iron griddle, etc.
The looks.... it has the perfect camping vibe.
Cons
When only using unleaded petrol the generator can clog up if the fuel is of bad quality.
The housing is prone to rust, although not severe
The paint isn't the best on the market. Don't let it stand out in the rain.
Can be a bit fiddly to get the blue flame in some conditions. Make sure to pressure up the fuel tank well enough.
Don't tighten up the generator valve too tight. This will mess up the brass sealing.
Review continues below photo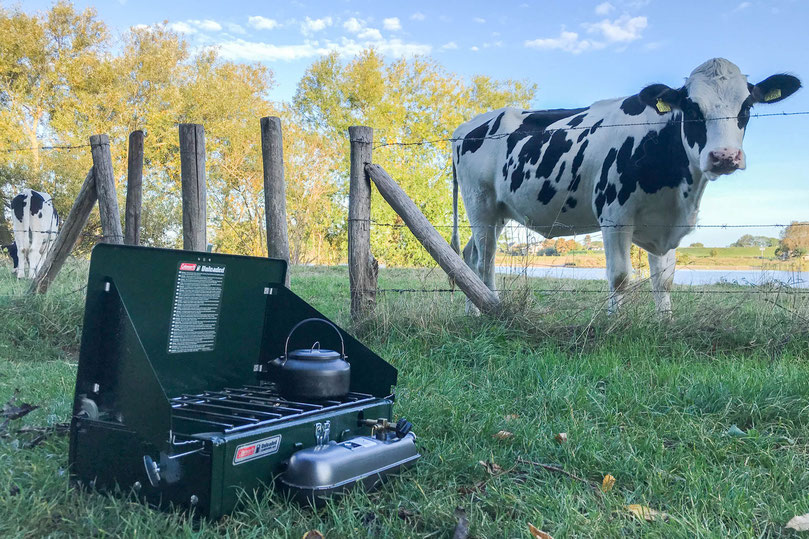 General maintenance
Clean it regularly using wet wipes.
Oil the pump unit at least twice a year if used sparsely. Oil it monthly when you use it daily as an overlander.
Burn Coleman Fuel once a month to clean out any contamination that have build up in the generator unit.
Pro tips
Buy the Coleman Oven as well! It will open up a whole new world! What about lasagna high up in the Andes mountains? Or fresh bread in the morning during a camping trip in the Belgian Ardennes?
Bring an extra generator and pump with you on long trips. Don't let a small and affordable part stop you when things break down. Cheap dirty fuel can ruin your generator in the long run.
Bring a small syringe to oil the pumping unit.
Should you buy the Coleman two-burner stove?
So should you buy it? That depends. But the quality and all-round use definitely vote for a big yes. Why the doubt?
If you're into an easy solution without any fiddling, you should also consider other burners. Gas burners for example, will ignite easier and burn clean from the start. Disadvantage of these is the lack of availability and ignition problems during colder temperatures and at great heights. Gas-burners are a great solution for general camping trips with the family. Getting your hands on gas in remote corners of the planet can prove to be difficult. Especially fiddling around with adapters for your gas tank can be a real hassle.
You will love this stove if you're a hipster that loves iconic gear, an overlander traveling the planet, or a prepper that's afraid of the zombie-apocalypse. It's a bit fiddly to get the flame right, but practice makes perfect! This isn't a deal breaker. The big pro is the availability of fuel and the compact design. It's easy to repair if necessary and burns at a high temperature. We definitely like it. We also like the peace of mind that comes with a petrol fueled burner, the fuel is always available and easy to carry with you in a small jerrycan.
We don't really have experience with other burners for a longer duration of time. We've used a gas-burner in the past, but only on camping trips to France. A total of 12 weeks or so. But there's no doubt we will always choose petrol burners for future trips. We still use this Coleman unleaded stove and will surely buy a new one when this one gives way. But we expect it to last for many years to come. So, would we buy it again? That would be a firm and confident yes!