The Tembo 4x4 hammock is the ultimate piece of gear for your summer camping trip or overland journey. It will bring relaxation after a busy day on the road. With the warmer weather returning to our part of the world it's time to get out there, but this time you've something extra to look forward to: the hammock and the end of the day. Time for a review.
For us the Tembo hammock was a very welcome piece of kit back in early 2020. We were preparing for our South-America expedition and were looking for some additional gear that would bring some comfort to our lives. Ever since buying the Tembo rooftop tent in 2015 we've been in contact with Tembo, talking about their products and possible improvements for the future. So when their range of camping gear was launched we had to try it!
Instead of going to South-America, we set of on a Europe roadtrip in the summer of 2020. It was the start of our bigger plan to explore the world, taking with us the Tembo Classic chairs and hammock as part of our furniture. After using their hammock for almost a year it's finally time for a proper review and introduction.
Review continues below the photo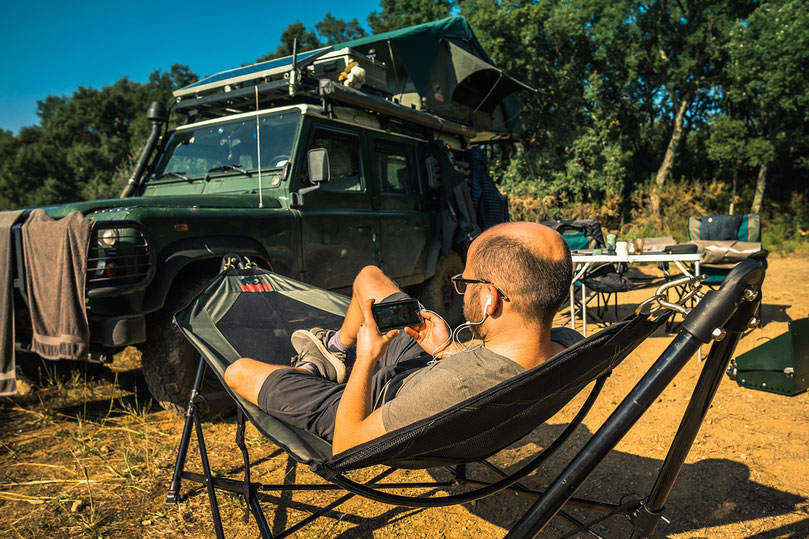 What is the Tembo 4x4 hammock?
This hammock is a unique piece of kit that brings comfort and relaxation to your camp. The Tembo hammock is a standalone unit and requires no trees to attach it to. The hammock consists of a foldable tubular frame and a heavy duty canvas fabric (polyester 630D Oxford). Once taken out of the bag you simply have to attach the fabric to four hooks on the frame, open up the framework and secure it with four safety pins. As easy as pie.
Because it doesn't require any trees you can set it up anywhere, or move it around camp when necessary. The hammock is even equipped with some storage compartmens for your phone or can of beer. It has a weight rating of 130 kg and comes in a 300D polyester carry bag. It can be stored away in the 108x32x45 cm bag and unfolds to a whopping 240x75,5x74,5 cm big hammock.
This all sounds pretty good right? Let's talk about the pros and cons, according to our experience after a year of use.
Review continues below the photo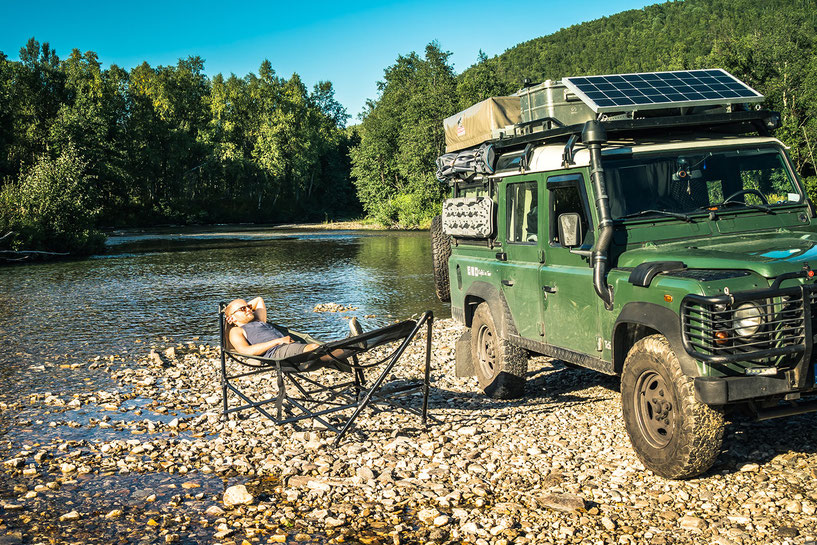 Pros
Very sturdy construction which can withstand overlanding abuse.

It's easy to set up. It takes less than two minutes to get it ready.

The hammock is made of a high-quality hard-wearing fabric, no need to take your shoes off.

It's stable, wide and doesn't swing a lot. Which can be a nice thing, depending on your preference.

It's a standalone unit, no trees required. You can use it anywhere! For us that's a big win!
Cons
With the standalone framework it's pretty big to store away.

It's quite heavy at 14 kg, something to take into consideration when looking at storage options.

It doesn't swing a lot, which can be a good or a bad thing depending on your preferences.
Review continues below photo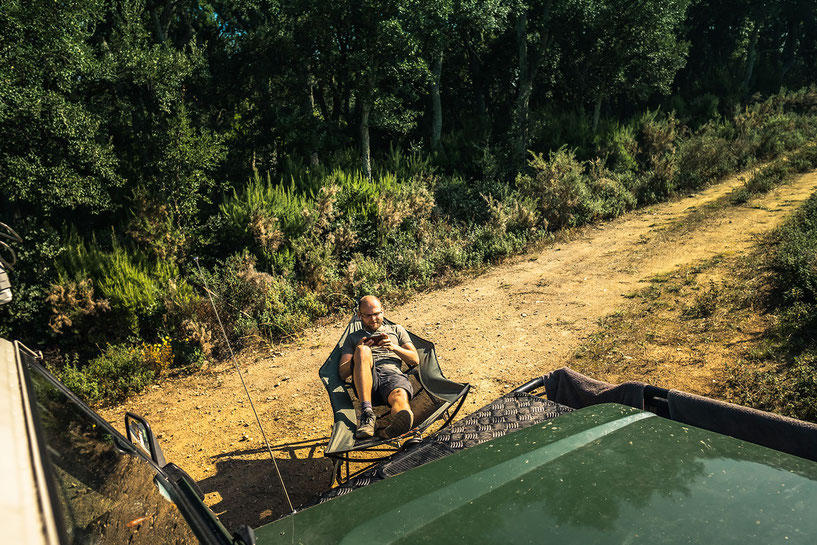 Should you buy the Tembo 4x4 hammock?
If you're in the market for a hammock for your travels this is a great piece of kit! The biggest selling points are the foldable but very solid frame, the fact that it's a standalone unit and the high quality fabric. Also the ease of use is unmatched. When the weather is sweet you will be a very happy person with this hammock! The fact that it is a standalone unit makes it great for overlanding use, it doesn't matter if you're in the forest or in the middle of the desert.
If you're into lightweight camping this hammock isn't ideal for you. You should probably opt for a lightweight hammock that can be used in combination with two trees. It's a bit bulky and heavy to store away, but very suitable for camping with a van, 4x4 overland vehicle or camper.
If you love camping and love some comfort after a long days drive, this is your piece of kit! If you're a heavy duty overlander and you still have some spare room left you should definitely consider taking this hammock. Nothing beats an hour in the hammock after conquering rough trails on a foreign continent. We are very happy with it and will take it with us wherever we go.
If you would like to hear more about our experiences with the Tembo hammock feel free to send us a message!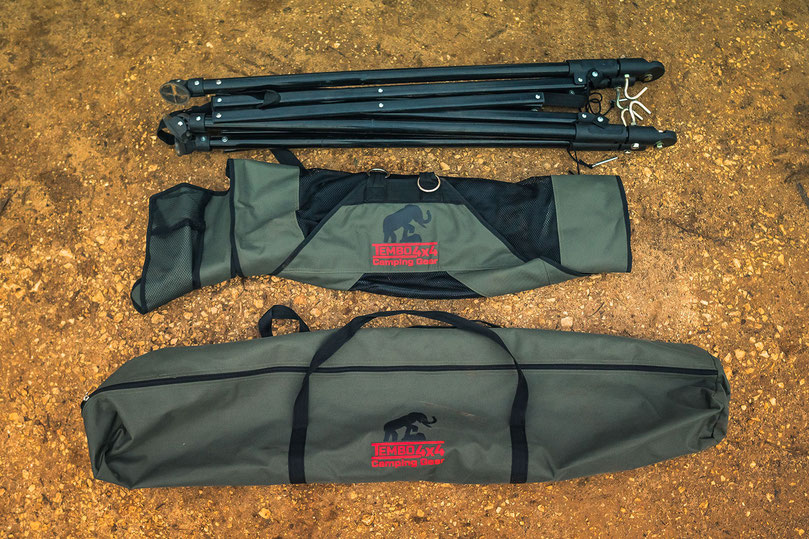 Disclaimer: Tembo 4x4 is a supporter of our travels, but hasn't paid us to write this review. But we do like to work with (and for) companies that stand by their products and offer great support when necessary. Great relationships keep us on the road with piece of mind. We hope you did like this (independent) equipment review.