The Rafiki on Tour spare parts list contains most of the spare items we carry on our international overland trips. With this comprehensive list we are comfortable on the road and confident that we can fix most problems.
The list below is compiled after years of experience on the road. We carry the stuff below because we love overlanding, fix the car ourselves and do our own maintenance. The list is somewhat up-to-date for our African 2022 adventure!
Packlist continues below photo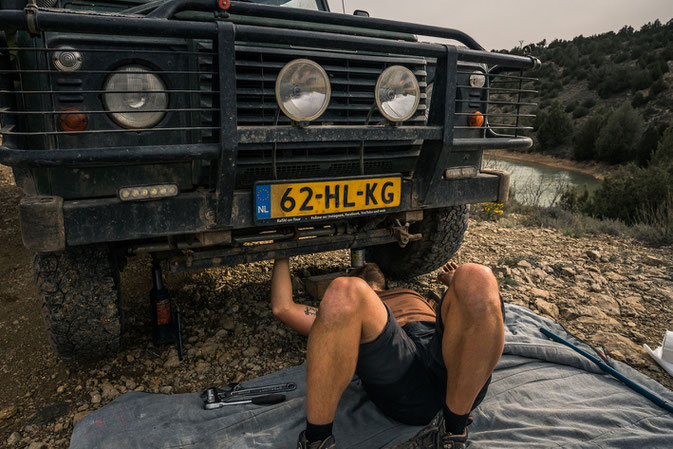 Spare parts list Land Rover Defender
Our Land Rover Rafiki is a Land Rover Defender 110 from 2000. It has a 300tdi engine, but TD5 axles, chassis and body. The list below is compiled for this. Some parts we deem necessary, others have just accumulated over the years.
Below is the download-link for the Excel file. Yellow marked parts are the ones we deem necessary to bring on any adventure. 
The rest is actually just weight which we like to carry around the globe, but could come in handy and was a shame to leave at home. Okay, we do carry a bit too much stuff, but some of it we carry due to specific problems we've encountered in the past.
Rafiki on Tour - spare parts list Land Rover Defender
2022-7-20 Rafiki on Tour packing list sp
Microsoft Excel Table
16.7 KB
The list is compiled from different parts of our inventory sheet (which is split into the locations on the car). If you think we miss something, please let us know and we will check if it's present.
---
Tools for the DIY mechanic
Below are some of the tools we carry. If you outsource all maintenance and repairs, a small toolkit will do just fine. We do everything ourselves, which is why we carry some extra tools.
We think it's important to have basic knowledge of your vehicle. That way you are prepared and can fix minor issues when they arrise in the field. This could prove invaluable once you are in a remote area without cell service.
Comprehensive general toolkit
Vehicle specific tools (spanners, sockets, etc.)
Wheel nut wrench
Wheel nut key - in case of unique locking nuts
Wheel bearing socket (vehicle specific)
Fan spanner (vehicle specific)
Ball-joint puller/separator
Valve feeler gauge
Tire repair kit
Tire pressure gauge
Thermometer infrared
Helicoil set
Screw extractor
C-clip pliers (for UJ removal)
Bottle jack
Grease gun
Oil/liquid pump for filling up differentials, gearbox and transferbox (cheap, expensive or use special bottles with a squeeze function)
Funnel
Siphon hose
Plastic sheet
Overall
Compressor (onboard 12V)