With upcoming roadtrips in mind it seemed wise to take some recovery boards with us. We don't have a winch (cost & weight), so some good recovery boards would be advisable. Looking at the different options we could choose between aluminium plates, waffle boards or some sort of plastic compound recovery boards. We opted for the latter and chose the Tred Pro recovery boards from Tred 4x4 for our overland Defender.
The Tred Pro recovery board is one of the most advanced boards on the market today. It's the new generation boards from Tred 4x4, designed and improved to get your vehicle moving as fast and efficiently as possible. It's the next gen board that will work in sand, snow and mud. Made in Australia, the land of the outback. Tested to the extreme so to say. With this board you can explore the most remote regions of the planet with confidence.
As I mentioned before we chose the plastic recovery boards, the Tred Pro. But these boards are not made from your average plastic. They're made from a patented dual composite for great durability and reliability. The special nylon material blend of the board itself guarantees high strength, but also high flexibility (flexing instead of rupturing). It's also high wear resistant. The rigid design makes sure the Tred Pro recovery boards are the perfect underground to get you free.
The problem with a one compound design is that you always have to compromise between high-flex (softness) and durability of the grip profile (preferably hard plastic). One of the problems that comes forward from this compromise is that the grip profile can melt when wheel spin occurs. Tred 4x4 have come up with a solution; the dual compound recovery board. The board itself is made from a nylon blend material that is strong, but able to flex. The grip profile is made from a more durable and harder compound, therefor it's more resistant to heat and can handle wheel spin better. This is unique on the market! You have the best of both worlds.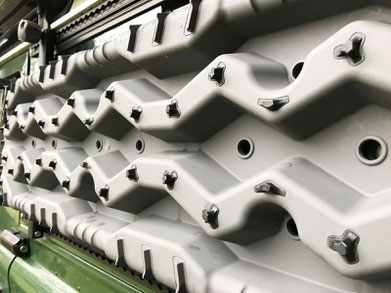 Another nice feature of these boards is the unique and patented grip profile: SIPE-LOCK. This profile is specifically designed to hook into the common denominator of most all-terrain an off-road tires, the water evacuation channels on the outer edges (sipes). Tred 4x4 has analysed the pattern of hundreds of tires and has optimized the recovery board grip pattern to this. Universal, but most likely a perfect fit for your tires.
Time to mount them to the vehicle. Tred 4x4 has an official mounting bracket, specifically designed for the Tred recovery boards. But these are rather expensive, especially when you need to buy four of them. That's why I went for the MaxTrax mounting pins, which are considerably cheaper. There is a quality difference of course, not to mention the many mounting possibilities of the official bracket. But for my application the MaxTrax pins are more than qualified. Although you need to cut/grind off a bit of plastic at the base to make them fit well, but after that they will work perfectly.
I wanted to mount my plates to both sides of the Land Rover Defender 110 Station. Therefor I fitted universal cargo rails to the side. Which came in (silver) anodized aluminium, but I had them powder coated black.
A friend of mine has a metal workshop at home and I asked him to create brackets for the mounting pins and rails. This isn't supposed to be too difficult, but I wanted the option to fold them down as a table. They're made from 2mm iron plating and are a custom fit to my car. They have the same black powder coating as the aluminium cargo rails, which is really nice.
Once mounted on the car I made some flat table surface from aluminium and finished everything off. It's strong, good looking and very practical. Now I just hope I won't need the recovery boards anytime soon.
Tred Pro recovery boards - 4x
Flat cargo rails (and fittings) - 4x
Cargo rail bolt fittings - 8x
Custom made brackets, powder coated - 4x
MaxTrax mounting pins - 8x
Aluminium plate - 2x
Anti-vibration mat - 2x
Thule Lockable Knob - 4x
Padlock - 2x
If you've any questions about our vehicle, equipment or travel-experiences, feel free to contact us.